Biniax is an original and unique arcade logic game. It requires just a minute to learn the rules and you will get hours of gameplay. The gaming field is a 5×7 grid filled partially with pairs of elements. Every pair consists of two different elements combined of four possible.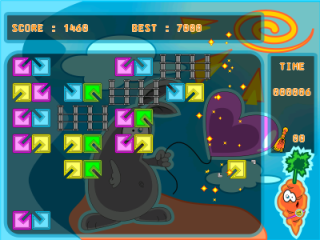 You control the box with an element inside. You can move around the field on empty spaces. You can also remove pairs of elements, if you have the same element as the one of the pair. When you remove the pair your element becomes the other one element of the pair and the score is increased;
The gaming field scrolls down slowly (increasing the speed with your progress) and your goal is to stay as long as possible on the field. Remember, that if you can not take the pair in front of you, the scrolling will move your block down!
Release notes:
This is a GP2X adaptation of BINIAX2, a fastpaced puzzle game by Jordan Tuzsuzov ( http://www.biniax.com ). The port is based on the good work of PSP version of the game by Deniska and the Dingoo A320 version by yoannd26 and Ezial .
Bianax 2 has been ported to the GP2x by FAROX.
http://dl.openhandhelds.org/cgi-bin/gp2x.cgi?0,0,0,0,25,2783