Giana's Return aims to be a worthy UNOFFICIAL sequel of the alltime classic "The Great Giana Sisters".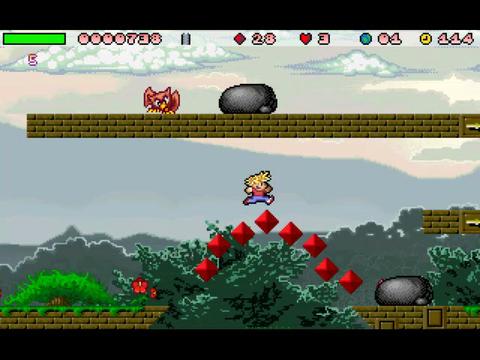 Version v0.99.6 is a hotfix release and is a recommended update, as it's not possible to complete the game with the previously released v0.99.5 due to modified jumping physics.
Features:
* Power Ups and Extras
* Oldschool style pixeled sprites and tiles
* Wonderful hand drawn backgrounds
* Illustrated hand drawn storyline
* Over 18 Tracks of finest chip music!
* Multi-Language: German, English, French, Spanish
* Password and/or save game (depending on release platform)
* Hidden Warp Zones and Bonus Caves
* Hidden Trainer
* TOP 10 Highscore
Changes:
* Fixed screen shakes at bosses (cosmetic fix)
* Getting a powerup at a dissolveable bridge should temporary stop the bridge from crumbling away
* Jumping behavior is back to "normal" again, this should solve several issues intruduced with v0.99.5.
* Fixed owl moving behaviour in Level 32
* Fixed positioning bug after bonus cave in Level 45
* WIZ / GP2x – Fixed scripting bug, which left things in the RAM instead of freeing it.
* WIZ / GP2x – Recompressed music files, hardly any quality difference BUT saves 7mb of space!
Giana's Return is available in the flavors Windows, Wiz and GP2x!