Giana's Return aims to be a worthy UNOFFICIAL sequel of the alltime classic "The Great Giana Sisters".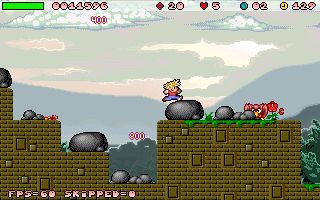 Features:
* Power Ups and Extras
* Oldschool style pixeled sprites and tiles
* Wonderful hand drawn backgrounds
* Illustrated hand drawn storyline
* Over 18 Tracks of finest chip music!
* Multi-Language: German, English, French, Spanish
* Password and/or save game (depending on release platform)
* Hidden Warp Zones and Bonus Caves
* Hidden Trainer
* TOP 10 Highscore
Release notes:
The original v0.99.6 release was not able to work on GP2x machines with NATIVE firmware, this is a hotfix release. Giana's Return GP2x now works on NATIVE Firmware and Open2x Firmware. As usual, thanks to Pickle for the hard work and thanks to everyone who was hinting us!
Giana's Return is available in the flavors Windows, Wiz and GP2x!