Atari800 is an emulator for the 800, 800XL, 130XE and 5200 models of the Atari personal computer. It can be used on console, FrameBuffer or X11.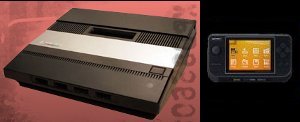 PSPATARI is a port on PSP of the version 2.0.2 (April 08 2006) of Atari800 from Petr Stehlik. GP2X-Atari is a port on GP2X of the PSP version.
Changes:
– Cheat support !
– New background images
– Text editor to write your own comments on games
– Text editor to modify the global cheat.txt file
– Display first comment line while browsing game files
– Memory monitoring engine to find your own cheat code !
– Improve file requester with virtual keyboard to choose sequentially rom files beginning with a given letter
– Add documentation for settings in help menu
– A thumbnail image is now displayed in the file requester while selecting any file with the same name of a previously saved game (cartridges, keyboard, settings). It might be very helpful to recognize that game later if you have thousand different games on your cartridges folder !
http://zx81.zx81.free.fr/serendipity/index.php?/archives/387-GP2X-Atari-Atari-8001305200-Emulator-for-GP2X-v1.1.0.html