Mister Block has lost all his favourite blue blocks! Help him find them by navigating various levels, each dotted with traps and pitfalls.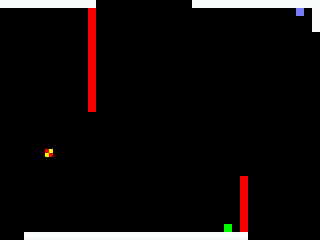 Information on playing the game and creating levels (it's easy, try it) is in readme.txt.
If you want to keep your progress/highscores for new versions of Mister Block, simply backup the data/user directory from your old copy, then overwrite the new data/user in the new copy.
Changes:
New in 1.0:
Levels are now .png files, so they can be edited in normal graphics editor programs.
More level sizes supported – 40×30, 80×60, 20×15, and many more.
Some bugfixes.

More new stuff:
Pause
Improved controls
Clock set to 120MHz
Highscores set by yours truly – see if you can beat them!

New stuff:
Highscores
Power time visible
Level selector
Level editor (courtesy of mrsnature)
Various bugfixes