Notaz has updated his Genesis/Megadrive + Sega CD emulator for GP2x.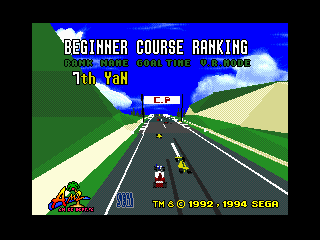 The main features of this release are
1) SVP (Sega Virtua Processor) support for Virtua Racing at playable speeds (often fullspeed).
2) Greatly improved streaming for Sega CD games. Read-ahead buffer must be disabled for this to work.
Other than that there are the following changes:
Added support for SVP (Sega Virtua Processor) to emulate Virtua Racing, wrote ARM recompiler and some HLE code for VR. Credits to Exophase and Rokas for various ideas.
Changed config file format, files are now human-readable. Game specific configs are now held in single file (but old game config files are still read when new one is missing).
Fixed a bug where some key combos didn't work as expected.
Fixed a regression in renderer (some graphic glitches in rare cases).
Adjusted fast renderer to work with more games, including VR.
Fixed a problem where SegaCD RAM cart data was getting lost on reset.
Greatly reduced SegaCD FMV game slowdowns by disabling read-ahead in the Linux kernel and C library (thanks to Rokas and Exophase for ideas again). Be sure to keep "ReadAhead buffer" OFF to avoid slowdowns.
PicoDrive now comes with a game config file for some games which need special settings, so they should now work out-of-the-box. More games will be added with later updates.
Files now can be deleted by pressing A+SELECT in the file browser.
The source code should be out soon.
http://www.gp32x.com/board/index.php?showtopic=41283&view=findpost&p=597107