Christmas wouldn't be Christmas without a new edition of Snowed In ! Now in its 6th Year! "Snowed In 6 – Deep Freeze" is THE definitive Christmas game.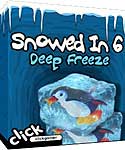 Enjoyed by gamers worldwide – the Snowed-in series has been downloaded over 500,000 times. Christmas wonderland is frozen over this Christmas and the Grinch is back with a bag full of new tricks. Help Santa assemble all his goodies and deep freeze the Grinch for good !
Snowed In 6 is free from Nov 15th 2007 to Jan 15th 2008. Get festive now, bump up the Christmas spirit and join the global high score board this Christmas.
http://www.clickgamer.com/moreinfo.htm?pid=15193&section=GP2X