Great news from GP2x developer ruckage: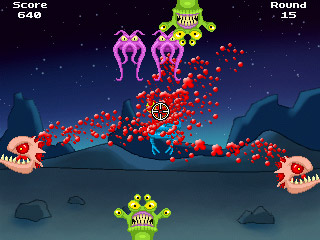 Quote:
Hello everyone,

I'm pleased to announce the imminent arrival of my new game 'Space Varments' which is due to be released by this coming weekend. It's a shooting game with the aim of reducing as many aliens as possible to bloody gibs all in name of getting a higher score. Although this was originally designed as an F200 only touch screen game I have since added in joystick support for those who don't own an F200 (though it's a lot more fun using the touch screen).

Features:
– 15 rounds of shooting action
– Lots of blood
– A final boss round against Big Momma alien.
– Did I mention lots of blood?
– Amazing music by Pat Ferguson
– Touchscreen and joypad support
– Really – there is loads of blood….
– High score table

Keep watching the news for when this is released and get ready to massacre the alien hordes.
http://www.gp32x.com/board/index.php?showtopic=41241&view=findpost&p=596368