STPPC2x is a GP2X port of Simon Tatham's Portable Puzzle Collection, a set of 27 addictive logic and puzzle games.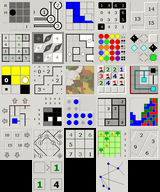 Changes:
– Fixed the crash caused by dragging off the screen in map/pegs/guess (why did nobody tell me about this?!)
– Centered all puzzles.
– Added default configuration saving.
– Added game saving (10 saveslots, use L and R while paused to select slot, Select to save and Vol-/Vol+ to load).
– Fixed timers while paused (only affected mines anyway which still isn't working).
– Revamped all mouse code.
– Saved a bit of memory here and there.
http://www.gp32x.com/board/index.php?showtopic=41934&st=0&p=606563entry606563