As Guyfawkes announced recently, he released an updated verison of his Yahtzee port for GP2x, this time with F200 support!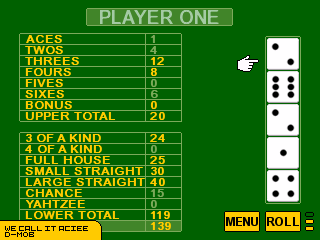 Here are his release notes:
As mentioned last week I was planning to update one of my first GP2X games from when the GP2X was first released. It was originally a port of my GP32 game Yahtzee and due to the early development kit for the GP2X the port wasn't that great. So now the F-200 is out, touch screen is perfect for the game and although I do not own a F-200 I wanted an up to date version for myself and others to enjoy.

The game has the following changes:

– Brand new layout and design for the game. Menus and in game look totally different and are much nicer and easier to read.
– F-200 Touch Screen and USB Mouse are now fully supported.
– Media player from Squares is now used so you can play your favourite MP3, OGG and (I think) MOD format music.
– Added SFX for the dice roll. I didnt put much SFX as you should be bangin' out your tunes 🙂
– Added animation for the dice roll.
– High Score table added.
– PDF user guide.
– Minor bug fixes.

Please read the user guide on how to set up the media player, by default it searches the /audio/ subfolder on your SD Card.

Donations are appreciated so if you like the game don't forget! This is my last software release for the GP2X as I will be probably moving onto something else in the new year, so thanks for playing my software and long live the GP2X! I hope you enjoy the new version, you can download it from the GP2X Archive.
Leave feedback here: http://www.gp32x.com/board/index.php?showtopic=39428