Lander on Planet Cheese is a PICO-8 game by boomlinde.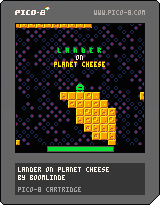 You are stuck on planet cheese. You could slice your way out if only you had a slicer. Luckily you have a slicer detector…
Use the slicer detector (X) to pinpoint the location of the slicer. Hold (O) to lock the camera. The up button will turn on your thrusters, while left and right fires your horizontal course correction engines. You need to refuel every now and then. Luckily the cheese of Planet Cheese can be processed and turned into rocket fuel. Land safely on both foot pads at a low velocity to process cheese.