Collect all the coins in the maze and find the term paper to collect points and advance to the next level.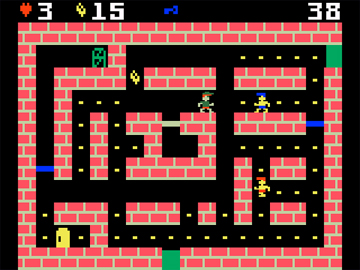 Collect chalk board brushes to keep your supply up. Collect keys to access coloured doors. Use secret doors to appear elsewhere in the maze. Use green elevator door to advance to next level after you collect the term paper and all coins. Use green side doors to enter other areas of maze. Hit wall switches to open hidden doors.
Thanks to Joe Zbiciak ( http://spatula-city.org/~im14u2c/ ) for the news hint.