RGCD is a new downloadable CD-ROM based magazine containing the very latest retro reviews, features and developer interviews, providing its readers with an essential one-stop resource for all their retro gaming needs. RGCD's main focus is on the new releases for 8/16-Bit computer platforms, but we also dedicate a good percentage of our reviews and feature space to retro look-and-feel PC-based remakes and independent games, so if that's what you're into then you are in the right place.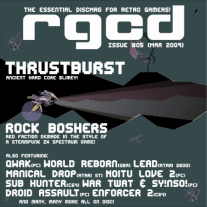 Release notes:
RGCD Issue #05 / On The Road Again!
5th March 2009 by James Monkman

It wasn't supposed to be available online until after the weekend (we're officially releasing it at the Byte-Back retro gaming event on the 7th), but I've finished packing and had a few hours to kill today – so here it is two days early, the long awaited 5th issue of RGCD!

We're back on the road with RGCD tomorrow, driving up to Stoke-On-Trent with approximately 300 other retro enthusiasts to spend two full days drinking, socialising and playing on a huge variety of vintage and modern gaming systems, and I'd be lying if I said I wasn't a tiny bit excited. Our RGCD stall will feature (from my collection) a rare 4160 STE complete with modified PSX controllers, PC optical mouse and a hard disk full of games, a CD32 with keyboard and PSX controllers, my (somewhat retro) desktop PC for showcasing modern indie games and a C64 with MMC-RR cart and, you guessed it, PSX controllers. We'll also be selling C64 cartridges (including two new titles not available from our shop), back issues of RGCD and a handful of Atari ST(E)/Falcon specific adapters allowing you to replace your battered old joysticks with PS2 dual-analogue pads (with built in mouse support)…

…As some of you may already know, we've been busy behind the scenes working with Paul Willingham and Alison Challis to create PSX adapters for our favourite 16/32-Bit machines; Paul has created one specifically for C= hardware (including the CD32), and Alison has developed an adapter designed for the Atari series – although both also work with several other consoles/home computers and there's a degree of crossover. We're in the process of negotiating and setting up shop entries for these, so check back soon for an update and if you're at Byte-Back this weekend come and try them out for yourself!

We're also just about to launch a CD32 side project (which we'll also be working on at the event) – again, more details on this will follow soon.

Anyway, I really hope you enjoy the issue and I'll be back with more news and updates next week.
Thanks to James Monkman, the publisher himself, for the news!