Donnie Russell II has updated AGB Hack, which is a RPG game.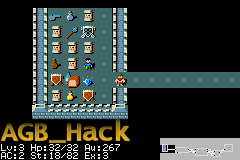 Changes:
Added menu-based controls and graphical tiles. The virtual keyboard controls and text-based graphics are still available.

Based on RevivedHack 1.1, an extensively rewritten adaptation of
Don G. Kneller's PC Hack 3.61.

Level compression was implemented with Markus Franz Xaver Johannes Oberhumer's
miniLZO 1.08, a mini subset of the LZO real-time data compression library.