The guys at gbadev.org posted a new homebrewn Game. Get the download from there. I'll upload the file soon. So far so good…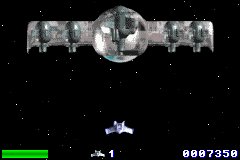 SimonB wrotes:
Attack… On Outer Space! is a nice space shooter made by
Programmer: Josh Chudnovsky, Chud575 on #gbadev, chud575[at]hotmail.com
Artist: Danil, Lord Danil, lorddanil[at]mail.ru (he speaks good english if you want to email him)
Music from: GBA MusicWave, courtesy of Sergej Kravcenko

You fly a spaceship and shoot enemies that come flying towards youand you get different power up's etc. nice music and sound effects.source code is included.