Broken circle is a turn based RPG, with a new combat system, isometric graphics and high quality battle animations.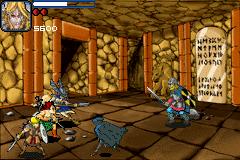 Release notes:
Broken Circle

In the year 2004 Elvis Morelli , one of the artists, join a compo from an important publisher (we prefer to do not show the name) and won the possibility to create and publish his game. After that offer he decide to arrange a team to develope the game but unfortunally they was great in drawing but they hadn't experience in development and they chose to look around for someone. They found Francesco Marra , 7 Raven Studios Co. Ltd. owner, and asked him to program the game. The development was so hard due to the complexity of the game type and took long but when they completed it the publisher will refuse the game with a stupid excuse (" we have changed our policy and we do not accept any more 3rd party software we know you won the competition but we can't take it now."). They had a paper signed but proceed with a legal action was so expensive and prefer to skip and look for someone interested. The original game was a 256Mbits cartridge and for that time was so bigger to be accepted from other publisher and Francesco Marra with Alberto Dolci , another member of the team, decide to change part of the code and gfx to fit in a small cartridge.

A file system and advanced compression method was used to reduce the size, all sprites was reduced from 256 colors to 16 color for all enemies and a special routine was added to their own tools to create some special table taht skip equal or flipped animation frames.

The size of the cartridge was 128Mbits but after again another hard work and color reduction was 64mbits. Wow they was very happy because was the size requested by all other publishers in that time.

Unfortunally after many meeting and offers only 1 publisher was interested to buy the title, the GBA was nearly at the end of his great story and a lot of publisher was no more interested to buy a GBA game. Alten8 was the only one interested but unfortunally they was not an official Nintendo publisher and they only tried to sell the game but once again without success.

The game offer a nice experience and show almost all the power of the GBA.

Enjoy it.

7 Raven Studios Team.
Thanks to http://www.gbarl.it and http://www.nintendomax.com for the news.