Jess Ragan has updated his Gameboy Advance version of the game Gorf.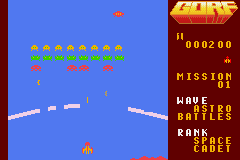 From Wikipedia ( http://en.wikipedia.org/wiki/Gorf ):
Gorf is an arcade game released in 1981 by Midway Mfg., whose name was advertised as an acronym for "Galactic Orbiting Robot Force". It is a multiple-mission fixed shooter with five distinct modes of play, essentially making it five games in one. It is well-known for its use of synthesized speech, a new feature at the time.

Gorf's objective is simply to destroy all enemies. The player controls a spaceship that can move slowly left, right, up and down.
Release notes:
I've made a few improvements to the previous release candidate, due to popular demand. All right, one person asked for it, but it was something that bothered me too. Past versions of GORF lacked the shimmering shields that were one of the coolest effects in the arcade game, but this release finally takes care of that issue. Frankly, I wasn't even sure I'd be able to squeeze in the shining shields, but after shifting the character and screen blocks around a bit, I finally had room for them.
Thanks to www.nintendomax.com for the news.