Motocross Challenge is a classic motocross racing game where the players must speed through gorgeous scenic locations, handle high-flying action jump ramps and amaze the crowds with death defying tricks. The new features added to the popular racing system brings more realism to the racing and knocks up the excitement another notch, giving to the player an outstanding gameplay experience. All the key features of motocross racing are there: suspension, automatic gear shift, spinning, quick accelerations, realistic collision reaction, bike vibration, crashes, great jumps and landing, various ground surfaces, 360o of vertical rotation of the bike and many more, creating a unique and brand new way of playing classic motocross racing games.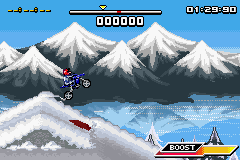 In Motocross challenge, the player isn't simply confine to a simple race against time. The game offers different types of games that will satisfy any types of players. In the "challenge" mode, the player can compete in a "Beat The Clock" style of race. Similar to classic arcade racing, the player must speed through the track as fast as possible, from checkpoint to checkpoint, in order to beat the best times. The "world tour" events pit four racers in a motocross racing "battle royal" where it's everyone for itself! The player must muscle for ranks as opponents try to snatch the gold away from it.
With 8 motocross bikes, 7 tricks and 10 tracks to unlock through 30 racing events, Motocross Challenge offers a great deal of fun and action. With it's massive content, quick but hard to master races and multiple profiles, Motocross Challenge is suited to fit from occasional players to expert gamers and is easily shared between family and friends. And in case your wondering, yes it's completly free.