Qwak for Gameboy Advance is based on the Amiga version of "Qwak". The Amiga, GBA and iPhone version is developed by Jamie Woodhouse. Publisher for the Amiga platform was Team 17, so some of you might still remember this title from the good old times.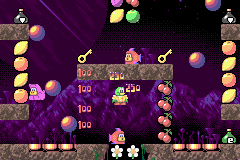 The game is stunning and full of action. Goal is to make lots of points and find the key to open the exit of each level. Of course enemies will make sure it wont be that easy – sometimes there is even a big boss.
Qwak is not really free, but you can donate whatever you want! – Please consider donating if you like this game, as we are sure Jamie deserves a bunch of free coffee's for this great step!
There are also versions for PC, MAC and iPhone – but those are not free and need to be paid for.
Thanks to http://www.nintendomax.com/viewtopic.php?f=27&t=11862 for the news, who got it from http://forum.gbadev.org/viewtopic.php?t=17269