Yesterday we wrote an e-mail to Jamie Woodhouse, coder of the cute platformer "Qwak" (GBA). As some of you know, he is currently selling real cartridges of his game – but… what will happen after those are sold out?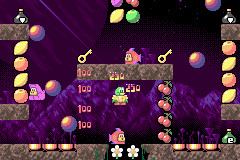 Jamie said that there is a high possibilty, that Qwak will be released as "Donationware", once all cartridges are gone!
Let's see what will happen, once the case comes closer. Thanks for your answer Jamie!