D-Pad Hero is a series of rhythm/music games for the Nintendo Entertainment System (NES).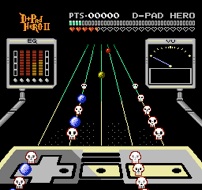 D-Pad Hero pays homage to the teams own favorite NES games and popular music artists. It's their vision of what music games might have been like in the NES heyday.
Make sure to also pay attention to D-Pad Hero I! If you do not have a real NES anymore, or you simply don't have the hardware to use the game on the real thing, make use of an emulator! This way you can also enjoy the game on other consoles such as Pandora, Wiz, GP2x, GP32, NDS, etc…
Thanks to Kent for the news via E-Mail!