Jet-Paco is a brand new NES game by Mojon Twins.
Paco Rebollez is an astronaut in charge of finding and gathering energonia crystals, a material used to power spaceships. To aid him in his hard job, he has a special suit equipped with a small thermonuclear cell in the buttocks zone which exhales an invisible gas which Paco uses to rise and fly around.
Paco's company has detected an old abandoned ship containing as much as 20 crystals. Paco could retire if he could gather such a number of crystals, so he decides to ignore the perils he might find inside the ship and begins the search!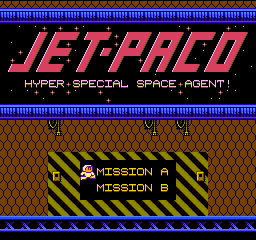 [Full GamePlay] Jet-Paco by Mojon Twins (Homebrew) [Nes/Famicom]
Source: http://www.retroindiegamedevelopers.com/nintendo-entertainment-system/jet-paco-06-01-2015-by-mojon-twins/
http://www.mojontwins.com/juegos_mojonos/jet-paco-hyper-special-space-agent-nes/