Mystic Origins is a new commercial cartridge based NES game.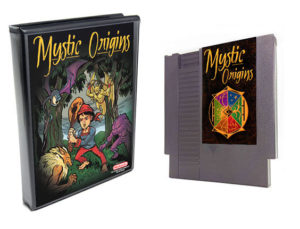 In this open journey through a unique fantasy world, the young vagabond musician Julian strives to avenge his mentor and undo the deceptive actions of the rogue sorceress Amriya.  Solve complex puzzles.  Explore a mysterious mythology full of foreign races and monsters.  Navigate through perilous platforming.  Gain a wide array of magical abilities.  Learn the song of the world.  Become the hero by restoring control of the supernatural elements to the Mystics before the imbalance leads to the catastrophic end of the natural world!
Mystic Origins isn't just a prototype slice of Mystic Searches, it is its own unique game that serves as a short, standalone prequel quest. It allows us to give you a fully playable story and demo of the game without giving away any of the actual game or its narrative. Here's your opportunity to play it as intended…on the real hardware! Grey cart edition comes with box and manual!