Back in 2007 "No Carrier" created Vegavox for Alex Mauer. Long out of print, it was the first NES album ever released on a cart. Now you can do the same.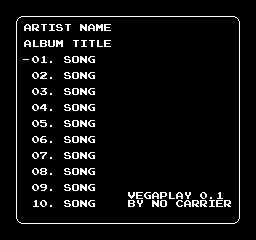 VegaPlay is an open source multi-song NSF playback ROM. It will work in Nestopia (see above) and other NES emulators. It has also been tested on NTSC NES hardware and a Subor famiclone using both EEPROM development carts and the RetroZone PowerPak.
Up and down cycle through the songs. The default number of songs is 10. However, this can be changed. See the source code for details.