Giana's Return aims to be a worthy UNOFFICIAL sequel of the alltime classic "The Great Giana Sisters".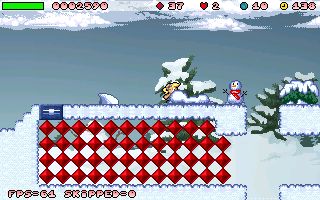 Features:
* Power Ups and Extras
* Oldschool style pixeled sprites and tiles
* Wonderful hand drawn backgrounds
* Illustrated hand drawn storyline
* Over 18 Tracks of finest chip music!
* Multi-Language: German, English, French, Spanish
* Password and/or save game (depending on release platform)
* Hidden Warp Zones and Bonus Caves
* Hidden Trainer
* TOP 10 Highscore
Release notes:
Gianas Return v0.997 – Pandora IS OUT! Please check the download section!Thanks to Pickle for his porting efforts!
Giana's Return is available in the flavors Windows, GP2x, Wiz, GP32, Dingux, Ubuntu, Mac OSX and Dreamcast