SunVox by Alexander Zolotov is a small, fast and powerful music sequencer with modular synthesizers. It is a tool for those people who want to compose music anywhere. SunVox available for desktop PC (Windows, Linux, Mac OS X), pocket computers (Windows Mobile, PalmOS, iPhone/iPad) and netbooks. Ported to Pandora by cube48.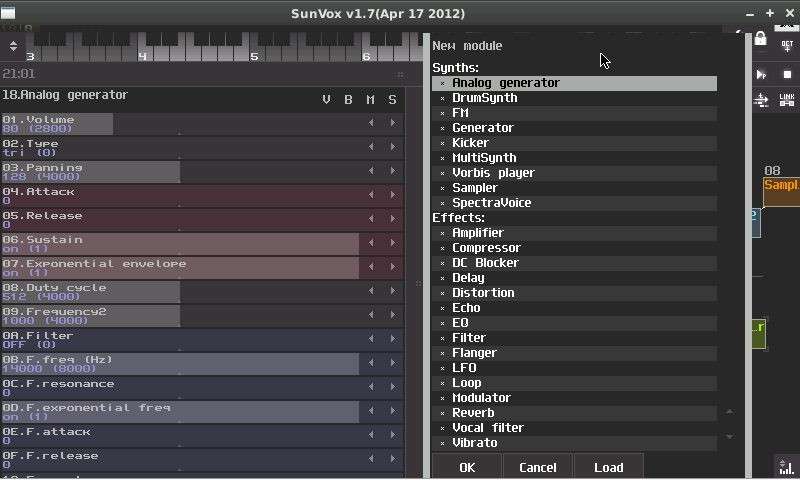 Changes:
* SunVox has been ported to Raspberry Pi;
* engine optimization;
* extended Visualization Parameters in the Module Properties: type of the Level Meter, type of the Oscilloscope, background, shadow, etc.;
* available Level Meter modes: OFF, Mono, Stereo, Color, Glow effect;
* available Oscilloscope modes: OFF, Points, Lines, Bars, Bars2 (symmetrical), Stereo phase scope (Goniometer), Stereo phase scope x2;
* default Visualization Parameters can be set in the SunVox Preferences (Main menu -> Preferences -> Modules -> Default visualizer);
* new module – Sound2Ctl; this module can convert the audio signal to the numeric value of any selected controller;
* new module – MultiCtl; with this module you can control multiple controllers at once;
* WaveShaper: new controller "DC filter" (DC Blocking Filter) has been added; enabled by default;
* Amplifier: new controller "Absolute" has been added; enable it to apply "absolute value" filter to the signal;
* MultiSynth: new buttons have been added: Options, Reset, Smooth, Load, Save;
* MultiSynth: now you can switch between different types of Velocity Graphs in the Options menu; it is useful for complex velocity mapping;
* DrumSynth is now supports Velocity Change commands;
* "Change font size" option has been changed to "Scale"; and now you can change the pattern editor scale very smoothly on any device;
* now you can set the name of the pattern, instead of the 16×16 icon;
* the Scale parameter can be changed for each module separately (in the Module Preferences, or using CTRL + MOUSE WHEEL);
* now the screen orientation can be changed manually (only for Android, WinCE and PalmOS) in the Preferences -> Interface -> Angle;
* additional File Browser functions: Remove, Rename, Cut, Copy, Paste, Create Directory;
* now you can see the file size in the File Browser (except PalmOS);
* new simple examples: sound2ctl*, drumsynth*;
* new song examples: moon_secrets, CsardasContinuum (by Frantisek Fuka (Fuxoft)), berlin_fm_-_nt, visualizer_demo, silence_artifacts;
* bugs fixed.