BlackFlip is a Polarium clone, an easy to play (but hard to finish) puzzle game perfectly suited for stylus play.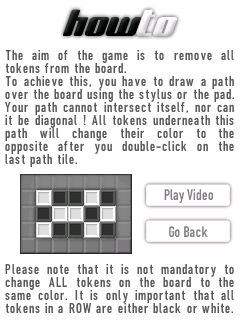 Changes:
– Fixed page number bug in menu
– Improved translation system
– 400 new puzzles (resynched the database with blackflip.org)
– Added Italian translation (thanks to Scognito !)
– Fixed some text alignments
– Added 240×240 screen support, but still crappy (more like a quick hack than a real resolution support, but everything is 100% playable)
Thanks to Mollusk, the author himself, for the news.