KeepMyTones – Saving your Contact Ringtone and Sounds & Notifications Settings.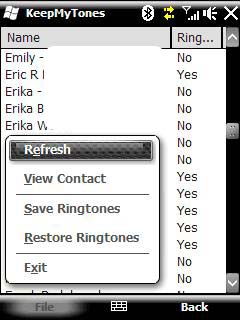 Features:
– List All Contacts and wether they have a ringtone or not.
– Save/Restore Contact Ringtone Settings.
– Edit/Remove Contact Ringtone (WMA and MP3 Supported).
– Ability to decided where to save the file and where to restore from.
– Save/Restore your Sounds & Notification Settings
Changes:
– Program now grabs all events from the phone instead of having them preprogrammed. If an event does not exist on a phone while restoring it will simply skip that event.
– Contact Ringtones can now preview WMA files.
– General Code Cleanup and Optimization
– FIXED: Multiple previewing of Contact Ringtones.
– FIXED: First Attempt to Fix some Windows Mobile 6.5 Compatibility Issues with cooked ROMs.
– FIXED: Removed Custom Message Balloon Notifications replaced with standard MessageBox.