Using Klaxon is pretty straightforward; it's more or less like the standard Clocks and Alarms application.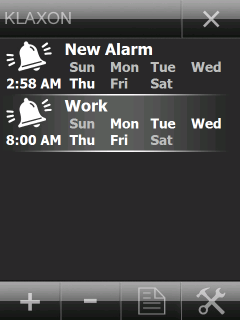 Changes:
– When integrating with Home Screen, Klaxon now cancels all Windows alarms upon firing an alarm.
– Turning off the screen when snoozing is now an option in settings.
– Klaxon will now ask for confirmation if you try to create or edit an alarm that is set as disabled. Some users were accidentally disabling the alarm and pressing OK, and the alarm would obviously not go off.