NaviComputer is a GPS mapping and offroad navigation / tracking software designed for Windows Mobile devices.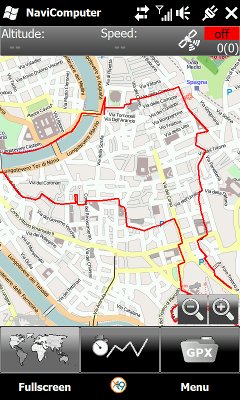 What makes NaviComputer outstanding is the ability to view maps offline, so there is no need for internet connection or dataplan when you are on a trip.
Maps can be easily downloaded from various online map sources like OpenStreetMap either with the bundled PC software "NaviMapper" or directly with NaviComputer on the mobile device. Maps are saved as single, easy to handle and space-saving files.
Changes:
NaviMapper:
– New: Show total download progress
– New: Show estimated file size
– Fix: Some minor stability issues
NaviComputer:
– New: Online Mode
– New: nmap download in NaviComputer (without NaviMapper)
– New: Improved touch scrolling in gpx file list
– New: Show an arrow instead of the cross on the map when heading data is available
– New: Help File
– Fix: GPX Time Node format compatible to ISO 8691
– Fix: Fixed Crash when trying to import unsupported gpx files
– Fix: Some minor stability issues