Diablo is a dark fantasy-themed action role-playing game developed by Blizzard North and released by Blizzard Entertainment on November 30, 1996.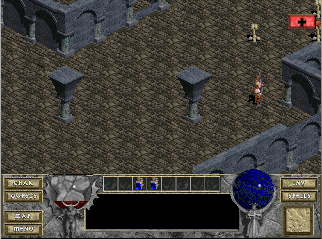 Set in the fictional Kingdom of Khanduras (located in the Diablo series fantasy world of Sanctuary), Diablo has the player take control of a lone hero as he or she battles to rid the world of the eponymous Lord of Terror. Beneath the town of Tristram, the player journeys through sixteen dungeon levels to ultimately come face to face with Diablo and his demon minions.
This release is an initial Beta test release. There are probably some issues, and some content is missing.
All you need to do is copy the folder in the zip file onto your ppc (anywhere you like), then copy the diabloui.dll file from the Diablo CD into the 'Diablo' folder.