Slide2Play is a S2 series application. S2P is a stylus-free MP3/WMA player application. It simply lets you browse your music files & play.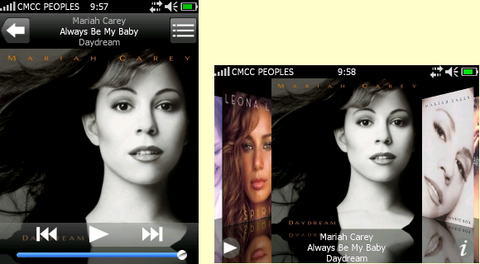 Changes:
– more finger-friendly on the Album View.
– added option to repeat a single Album, so the repeat options are: none -> all -> an album -> a song.
– added option (ShakeThreshold) to adjust the shaking responseness.
– added limited support to HTC Wired Remote Control (read the FAQ for details).
– added an OpenGL version for devices that support OpenGL ES (Touch Diamond/Pro/HD & Xperia X1).
– fixed on some devices S2P crashes when Bluetooth is already turned on (but AVRCP still may not be supported on these devices).
– fixed when shuffle is on, sometimes the Album pic cannot be shown.
– fixed when repeat option is on, the "slide to next Album" does not work.
– some minor bugs fixed.
– one known issue left: Album View will crash when there are a lot of albums (> 8G of songs).