S2P is a stylus-free MP3/MP4/M4A/AAC/WMA/WAV/M3U/PLS/ASX player application. It simply lets you browse your music files & play. It fully integrates with S2U2; & supports A2DP & AVRCP.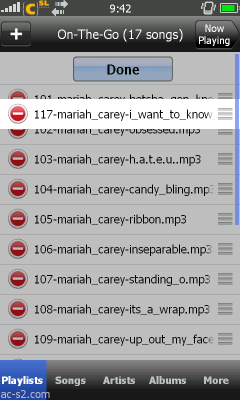 Since the "Album View" is still buggy, this is released as a "beta" with the "Album View" disabled. Other than that, all other functions are workable & more practical than the old version.
Changes:
– song order in the playlist can be changed.
– added "Settings" menu.
– added support to wired remote control on most HTC devices (no more calibration is required, read the FAQ for details).
– added support to AVRCP on HTC Touch Pro2/HD2.
– added option "Override WMP for remote control" in case your device remote control is hard-coded to WMP.
– added fast forward/backward when press & hold the forward/backward buttons; the pace can be tuned in the settings;
S2U2 v2.30 or later also support this function.
– adjusted the "Full Screen Album" option to make use of the whole screen of WQVGA/WVGA devices.
– faster Shuffle playback.
– added option to pause the playback when headset is disconnected.
– added international languages support (for non-English devices, d/l the S2P-LanguagePack.zip; extract your language's ini file; rename it to lang.ini; copy to the S2P installed folder; restart S2P).
– added option to show battery status in digits.
– a lot minor bugs fixed.