S2U2 (Slide2Unlock2) is a simple lock/unlock application which has the iPhone style slide unlocking. It can be used as a screensaver while you don't use your device. And it's has a CallerID function (some devices may not work, so please try it first); and S2P control plugin.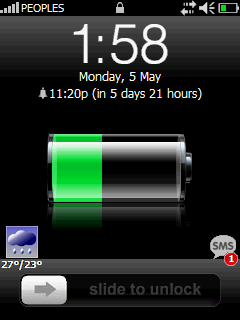 Changes:
– added option "ExceptionEXEisFG" – 1 means the exceptional applications list (ExceptionEXE0-9) will be checked against the foreground application only; 0 means the exceptional applications list will be checked not only the foreground application but also the background applications.
– added a charging animation when the device is charging; to disable it, delete the battery1.png under gfx.
– added DPAD Up/Down (besides the Volume Up/Down) to mute the incoming ring/vibration.
– if S2P is running, unlock S2U2 will invoke S2P.
– some fine tuning done when interacting with S2P.
– some minor bugs fixed.
– updated the Configuration & FAQs sections of the README.TXT.