SmileySMS is a plugin for default MailBox program, and whenever you receive an sms this program shows special notification message. And also you can view it the same way in your inbox. This program does not change your SMSes.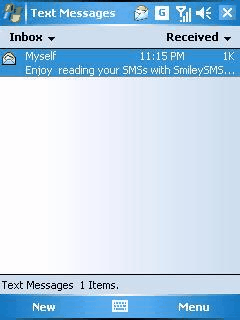 Program Features :
– Threaded messaging available for both wm6.1 and wm6/wm5 editions.
– Unlike default wm6.1 threading view,ability to forward,delete specific SMS by simply clicking on its number.
– Shows and displays ANIMATED smilies found in SMS texts in Inbox/Notifications bubbles/Thread views.
– Use smileys in compose forms,and easily send smileys.
– Assign MP3,OGG,WAV,WMA and other popular music file formats as your SMS ring tones.
– Shows pictures of contacts in SMS notification Bubbles/Forms/Threads.
– Fully customizable and skinnable.
– Remove phone number from the title of SMS notification,when the contact is known.
– Replace number in body of delivery report with the name of sender(contact).
– Easier to use menus for working with SMS notifications.
– Support for vibrate and number of seconds to vibrate.
– Bringing a menu for numbers found in your sms:"Send SMS","Save to Contacts",or "call".
– Set Zoom level of notification bubbles
– All features(including program) are configurable from control panel(Windows Settings)
– Compatible with other sms ring-tone programs like phonealarm.
– WM5.0 like notifications for WM2003 users.