Turn your Windows Mobile device into a useful alarm clock with the SpoonAlarm.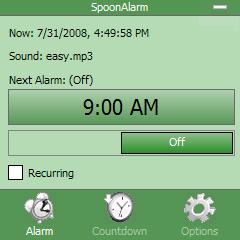 The SpoonAlarm is a simple and useful alarm application, combining a friendly interface with a loud mp3 based alarm capabilities.
With a couple of clicks – you can setup your next alarm, select your favorite mp3 song, configure your preferable snoozing option and all – using a friendly user interface designed to work with no stylus.
Designed to replace the default Windows Mobile alarms functionality, the SpoonAlarm is simple and intuitive to use, and includes few 'must have' features.
Such as:
* Finger Friendly user interface
* Support for both mp3 and wave files (to wake up with)
* Recurring Alarms
* Configurable Snooze
* 2-3 Clicks to configure alarm
* Countdown clock
Discussion: http://forum.xda-developers.com/showthread.php?t=413394