ThrottleLock is a pattern based lock application, fully skinable and with multilanguage support.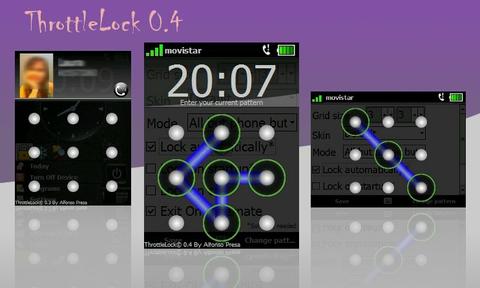 Fixes:
– Diagonal support for patterns.
– Faster (implemented with the new ThrottleLauncher png rendering engine based on libpng and zlib).
– Lighter, as now it's faster to paint when it deactivates it can free all the graphics info without drawback on startup time.
– Caller id popup showing who's calling or who you are talking to.
– New Layout based on the design by Aldur (thanks pal!)
– Configuration tool (a little bit ugly but really functional). Asks for pattern before entering for security.
– Multiple skins support that you can switch between using the config tool.
– Removed the tap&hold menu (change pattern implemented on the config tool)
– Two locking methods: all buttons or all but phone buttons.
– Lock on startup support.
– Grid size changing through config dialog.
– Option to autolock device when an incomming call enters.