TouchWatch2 v2.2 – Timer/Stopwatch application!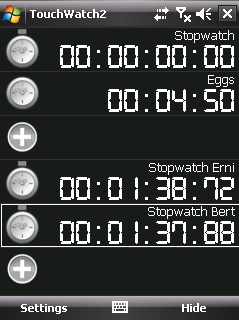 The usage is very simple. Just use fingertips to start or stop a timer (d-pad action). If you want to reset a timer, hold down your finger for 500ms (d-pad action for 500ms). To modify the settings of a timer, tab on the left side icon and the settings will open (d-pad left).
Changes:
* Overall user interface speed and battery consumption is improved.
* Added multilanguage support (English, German, Spanish, Italian, Dansk, French).
* Added the possibility to change the timers description (like "Eggs" or "raise pot").
* Added the possibility to change a timers value by keyboard.
* Added a button to mute the elapsed alarm and let timer run.
* Added easy access to the main features.
* Hiding TouchWatch is now working correctly. If an alarm is playing, TouchWatch will come to front automatically.
* Color change possible (registry only).
* Fixed sound bugs.
* Removed custom taskbar. The windows default taskbar will do the job.