Tilt the floor to roll a ball through an obstacle course before time runs out. Neverball is part puzzle game, part action game, and entirely a test of skill.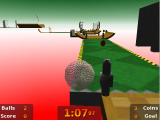 Neverball released for Dreamcast:
– Fixed physical problems.
– More stable and fast.
– Fixed transparency problems.
– Fixed music problems.
– VMU support for saving game state.