Rush Rush Rally Reloaded is a 2D racing game for the SEGA Dreamcast. It is an enhanced version of the acclaimed Rush Rush Rally Racing, requested by fans and produced by Senile Team.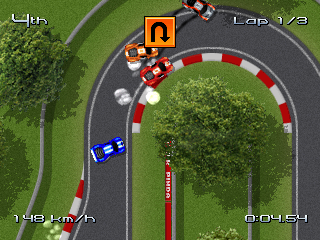 Features:
* Three single-player modes
* Three multi-player modes to enjoy with up to four players
* Four difficulty levels
* Five race cars to choose from
* 11 Grand Prix race tracks
* 9 additional multi-player race tracks
* Awesome soundtrack by Black Device
* Autosave to VMU (any port, 3 free blocks required)
* Region free
* Rumble pack (puru puru) support
* Compatible with original Dreamcast pads, arcade stick, and third party controllers
* Supports PAL (50/60 Hz), NTSC and VGA displays
* Configurable controls and many other options
* Animated cut scenes
* online highscores
* Full-colour, 8-page manual
* And even more unlockable content!