MegaXmas'89 by Nekojita is a new Christmas themed skiing game inspired by the Windows game SkiFree and runs on the Sega Genesis and Mega Drive. Dodge obstacles, collect presents, watch out for snowboarders, do tricks and avoid the Krampus!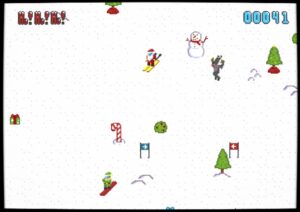 To run the ROM, load the MegaXmas89.bin file with a Sega Genesis / Mega Drive emulator or place the ROM on a flash cartridge to run on real hardware and FPGA or clone consoles.
We love the holidays and we love Sega. We're bringing the two together with new holiday games for the Genesis / Mega Drive starting with MegaXmas'89!
MegaXmas'89 is region free and has been optimized for JP, NTSC, PAL, and SECAM to give players from all regions the same game experience.