In Roll Boss Rush by isufje you play as Megaman's sister ROLL, but not the Roll based on the Japanese Canon, but the Ruby Spears Megaman Cartoon. There are now 4 difficulty levels (easy-normal-hard & one-hit). You choose one main weapon (straight-spread-charge or burst) and one sub-weapon (vacuum-toaster-saw). You can also now choose between fighting 1 or 2 bosses at the same time (mono-melee) regardless of your difficulty level.
During battles you can grab your enemy and absorb their power and use it against them. She can even perform some physical attacks such as a drop kick. You also have a super meter that allows you to perform a SUPER MOVE. Based on what weapon you're currently using, you can perform different SUPER MOVES. Each boss has a weakness, much like every other Megaman game. At the end of each battle, you're given a grade based upon your performance, an information token along with a password.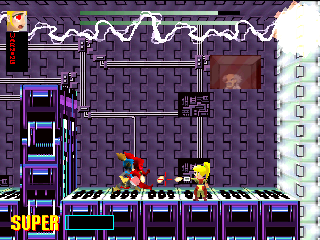 Please accept YouTube cookies to play this video. By accepting you will be accessing content from YouTube, a service provided by an external third party.
If you accept this notice, your choice will be saved and the page will refresh.
News found via the Retro Game Network! Thanks for the hint guys!
http://atariage.com/forums/topic/196372-roll-boss-rush-psxpsoneplaystaion-wip/page-2