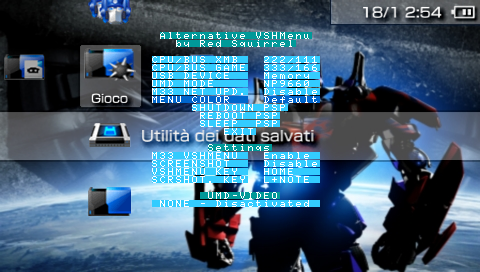 News from Red Squirrel:
What's it?
It is an Alternative VSHMenu that has ALL same functions of the M33 VshMenu and other utilities such as the possibility to change the background color, to power off and to sleep the console, to activate and to disactivate M33 VshMenù from dashboard or to make screenshot of XMB!
Press HOME (by Default) in XMB to start the Alternative VshMenu!
Press CIRCLE (by Default) in Menù to close it.

N.B.: Do not flash this plugin erasing M33 satelite.prx! In this case Alternative VSHMenu does not work!

v3.5 changes:
-Changed the disposition of menu lines to avoid to occupy all PSP screen height.
-Added a function to enable/disable M33 Network Update.
-Now when VSHMenù begins, the button "Shutdown PSP" will be selected as the first. In this way the process of PSP turning off, reboot and standby is quickly.
-Added 2 new versions of the PRX: one of them is the Italian translation (by Red Squirrel) and the other is the French Translation (by Britix).