APPSwitcher is a little VSH plugin that lets you categorize your homebrew for the XMB. By the press of a button combination you can then switch from category to category which then gets shown to you right on the XMB.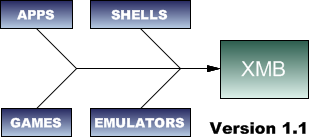 Changes:
ISO, GAME150 etc. directories now work
The content of the memorystick gets automatically refreshed (no need for the workaround of activating/deactivating the USB mode anymore)
The standard XMB functionality should now work correctly
Thanks to the author MK2k himself for the news.
http://www.mk2k.net/serendipity/index.php?/archives/24-APPSwitcher-PSP-1.1-New-Updated-Version.html