flav1994 released DualBoot PSP.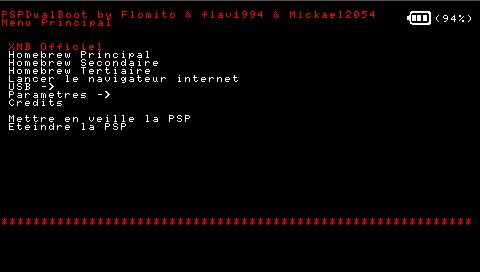 Release notes:
It is a utility that allows you to start without Homebrew (not really) by the XMB. With a prx of autoboot, you can choose to do several things:

– Launching a Homebrew (3 max), you can save them for no longer having to retype their way.
– Launch Internet Browser
– The USB mode, flash0, flash1, flash 2, flash3, UMD and Memory Stick
– View credits
– Parameters: Delete HBs record, change the background color, change the color of the two fonts, CPU speed, Format flash1: / Clean RAM Test your keys
– Pause PSP
– Turn off the PSP
– Return to XMB
– See the percentage of loading your battery
– The grapismes Menu Recovery
Thanks to www.dcemu.co.uk for the news.