LightMP3 is a MP3/OGG Vorbis/FLAC/Atrac3+ player designed to drain little energy from your battery. Can decode MP3 and ATRAC3+ via Media Engine with CPU set at 20Mhz, OGG Vorbis with CPU set at 50Mhz, MP3 via libMAD with CPU set at 70Mhz, FLAC with CPU set at 100Mhz. With battery at 100% and display set to minimum brightness it should last 9 hours.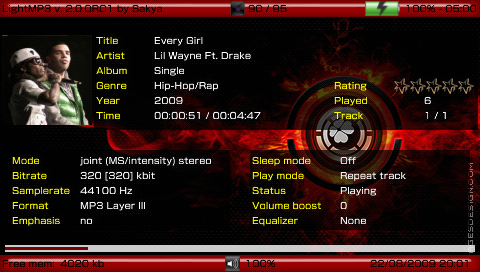 With battery at 100% and display turned off (press START while playing a track) it should last more than 11 hours.
Features:
Added: When pressing L the song will restart if more than 2% has been played
Added: support for relative path in playlists
Added: support for WMA (Windows Media Audio)
Added: "Sleep Timer" feature (kurian2z5)
Added: Bookmark function (for audiobook): press L+Circle while listening to a track.
There's a new option in the settings file.
SHUTDOWN_AFTER_BOOKMARK=0
The default is 0, if set to 1 the psp will shut down after creating a bookmark.
The next time you'll start LightMP3 will ask you if you want to load the saved bookmark.
Fixed: standardized the fast forward/rewind speed for the different codecs (kurian2z5)
Fixed: Conflict with Hold+ (kurian2z5)
Added a setting to disable the "display off on hold".
If you use Hold+ please disable this in LightMP3.
Fixed: Korean language support.
Fixed: shuffle (always the same number were generated in RC1)
Fixed: Added sql transaction to playPlaylist (faster change of track)
Fixed: Bug in ID3v2.2 parsing
Fixed: Bug in scrobbler log (time saved to file was the end of the track)
Thanks to www.tehskeen.com for the news.
http://forums.qj.net/psp-development-forum/157558-release-lightmp3-2-0-0-rc3.html