Metal Blob Solid is a PSP adoptation of METAL BLOB SOLID from Parallel Realities – http://www.parallelrealities.co.uk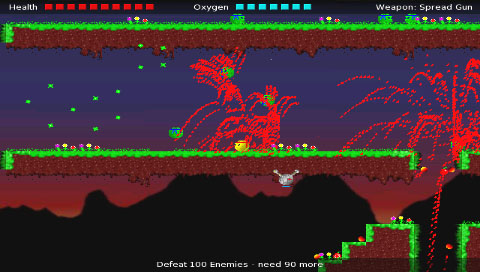 Metal Blob Solid is an open source tactical 2D platformer.
Features:
– Over 25 missions
– More than 8 hours' gameplay!
– 4 difficulty settings
– Large levels with different environments, such as water, lava, ice and slime.
– Use a variety of different weaponary, including machine guns and laser cannons.
– Multiple objectives
– Jetpack and Aqua Lung items to find
– Optional blood and gore
– Boss Battles!
– Lots of sound effects and music tracks
– Configurable controls
– Cheats: get unlimited health, aqualung/jetpack, rapid fire, extra blood/gore, speed, access to all levels
– Level replay value – Return to previous levels to rescue all MIAs and optional objectives.