NervOS is a multifunctional application for Playstation Portable.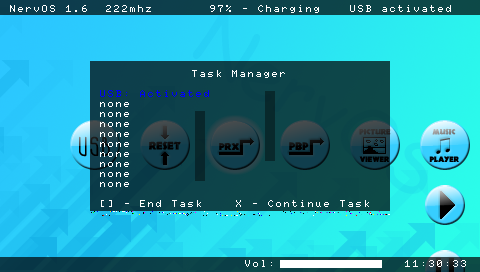 Features:
Image Viewer – PNG and JPEG files
Music Player – MP3 files
Can run homebrew – PBP files
Can run ISO/CSO files
Can run UMD's
Can load prx plugins (some prx plugins may not work)
USB Mode
Shows the current time – hours, minutes and seconds
Shows the battery life percentage
Shows CPU Speed.
Take screnshots – press Select
Task Manager – press L+R
Multi-tasking
After exiting from a game/homebrew, you are returned to NervOS.
Autoboot feature
Shows the volume in a volume bar
Theme Support
NervOS Configurator
Config.cfg file (configuration file)
USB Activated at Startup
Custom Text color (change it from config.cfg)
Changes:
Added:
New menu animation (when in music column, I have a new animation made but will be used on the net version)
Ability to change the CPU Speed from the configuration file.
CPU Speed is shown on the top bar.
Added a "Are you sure?" question when running something from NervOS.
Battery percentage is shown in red if it's below 10%.
Displays "Charging" if the battery is charging.
Added "Control Panel" title to L+R Window.
You can change the text color of the Control Panel (L+R to access it).

Changed:
Fixed bug with the task manager.
You can have up to 1000 themes in your THEMES folder.
Fixed a file browser bug.
Fixed bug with the volume.
Now when exiting from something, you return to the same point as you were before (example: "when going into browse for tracks, then exiting it should put you back at the music menu rather than putting you at the USB")
Removed the stop button.
No more crashes when pausing/stopping music and then loading music
again.