OpenTTD is a clone of the Microprose game "Transport Tycoon Deluxe", a popular game originally written by Chris Sawyer. It attempts to mimic the original game as closely as possible while extending it with new features.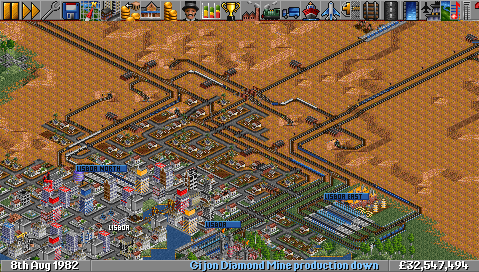 Release notes:
After 4 months, here is a new release which includes support for PSP Slim and 3.XX firmwares, the support for 1.50 has been dropped, as new hardware no longer supports it. This also means that you can now use the game in WPA authenticated access points which wasn't possible under 1.50.

This release also includes some small bugfixes, and the fix to avoid the nasty crash which was produced while playing the game with the midi background music enabled, so now you can play while hearing background music without unexpected crashes. It should be really stable now.

If you still didn't noticed, the site URL has changed, so please update your bookmarks. Forums are also working again hosted under sourceforge.net, and the European server for PSP Players has been setup again as usually.
Changes:
Code updated to be Slim and 3.XX firmwares compatible
Code updated to 0.5.3 to be able to play on latest online servers
Game crash while playing background music fixed
Bug from last resize of replace trains window fixed
Windows can now be dragged out of screen limits, to be able to see windows which exceded the screen height, such as the patches configuration dialog, just hold square pressed over a window to move it
Place Tree window now is displayed inside screen limits
PSP dedicated server upgraded to 0.5.3
Thanks to http://www.dev-fr.org and http://www.psp-hacks.com for the news.