Cooleyes has released a new version of his multimedia player for the Sony PSP. This application will playback PMP encoded files with AAC support.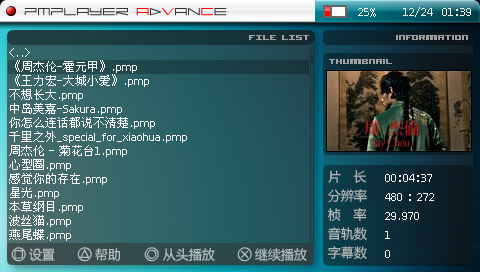 Changes:
[Core] players:

– based PMP AVC Mod 1.02M improvements, some minor amendments to the original BUG
– PSP using the built-in decoder engine, to support PMP2 (XVID + MP3), but at this stage decoding efficiency is not high ? new audio decoder core, from the PC to give up on the transplant ffmpeg, and the use of the latest study by the internal PSP ? hardware decoding module support multicast, Lianbo function. Settings window in the corresponding player mode (single individual player, group multicast, all Lianbo)
– switch left and right support the function ? can be set as low as 66 mHz frequency of operation (in the use of nethost and usbhost the time, the proposed use of 133 mHz operation)
– support of 44.1 kHz and 48 kHz sampling rate of audio ? ? support the AAC audio interface support standby, in the main interface can be manually standby, if not more than five minutes operations also will automatically go into standby;
– player does not support standby, please do not try, it might lead to erroneous or even Dead ? fw3xx version of the idle (or even when the player interface standby)

[Skin] interface:

– nice file browser interface, complete with the help of information (Benban skin former owner AreX produced CG), the rich set of options open to any directory ? player, USB & WIFI broadcast video on the PC PMPAVC. Videos can be deleted.
– show the detailed information of each movie (resolution, long time, FPS, a few tracks, plug-in subtitles.)
– support Chinese document browser interface named videos show the preview ? memory directory last visit, in the normal exit at the record currently browsing the directory, the next re-open free replacement skin

[Core] subtitles:

– support truetype fonts, and support the shadow of bold, almost avs loaded with embedded subtitles effect ? subtitles encoding settings are built-in functions, without prior conversion coding
– subtitles can set the size of subtitles, the show location and details of various parameters Set
Thanks to http://www.tehskeen.com for the news!
http://pspupdates.qj.net/PMPlayer-Advance-20080902/pg/49/aid/123659